Health
by Mark S. King
January 25, 2011 16:15
There is a folder, tucked within a folder, buried deep in my computer files. I shouldn't be looking at its contents, yet I can't bring myself to delete it altogether. It is labeled MARCUS, and inside the folder is my disease.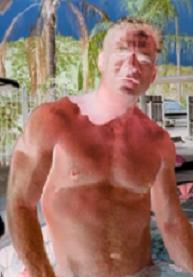 During my years of crystal meth addiction I went by the name of Marcus, at least to dealers and tricks and fellow addicts. It helped me determine who was calling my cell phone – those calling for Mark or Marcus usually had very different agendas – and Marcus even became an alternate persona as my drug addiction progressed.
When partying as Marcus, I felt confident and aloof. I took awful chances. I never met a strobe light I didn't like or a box on a dance floor I wouldn't jump on. A steroid-crazed gym regimen and the dehydration of drug abuse transformed my body into the low fat, pumped up gay ideal.
Read more...
by Ryan Watkins

January 24, 2011 14:30

Looking for conversation and education over some tasty chicken wings? Steven Igarashi, AID Atlanta's gay outreach coordinator, hosts the first OUT 2 EAT dinner meeting of 2011 Tuesday night at the Lindburgh Taco Mac from 7-9 p.m.

OUT 2 EAT, a monthly dinner gathering, invites allies and supporters to learn about the HIV / AIDS organization and how they can become involved in local outreach.

The social gathering is geared toward gay and bisexual Caucasian men but is open to everyone. All attendees will be responsible for their own bills.

Read more...

by Bo Shell

January 19, 2011 14:37

About a month ago I wrote a quick blog about an HIV-prevention commercial produced by New York's Gay Men's Health Crisis called "It's Never Just HIV."

It turns out I'm not the only one with an opinion.

The ad harshly addresses several complications that can happen to those with HIV, including osteoporosis, dementia and anal cancer. It's presentation is quite ominous, and even shows a flash of what actual anal cancer looks like.

I called the PSA a "sound word of warning to those who think HIV is purely a manageable disease," and that while treatments have improved, there are other health issues HIV-positive people might encounter. I still think it's a reasonable "wake-up call."

Read more...

by Tristan Skye

December 16, 2010 12:43

AID Atlanta will receive almost $750,000 thanks to a fundraiser by Delta Air Lines. The Atlanta-based Delta hosted a 15-day fundraising campaign that launched on Dec. 1 encouraging SkyMiles members to donate a minimum of $250 prior to Dec. 15. In return, the members would receive a certain number of Medallion Qualification Miles depending on their donation amount.

The $745,000 in donations for AID Atlanta makes Delta the largest corporate fundraising partner for the HIV agency. This also marks the first time AID Atlanta has joined in Delta's MQM promotion and the success came just in time.

"Delta Air Lines' generosity comes at a critical time," said Mark B. Rinder, chairman of the Board of AID Atlanta, in a press release. "Demand for our services continues to grow while corporate and foundation grant-giving has dropped significantly. Over the past two years, we have found it difficult to keep pace with the demand. We still need support from others and are thankful for Delta Air Lines' leadership." Delta Air Lines has many years of support of AID Atlanta's goal to help minimize HIV infections and maximize the excellence of life of those already infected.

Read more...

by Bo Shell

December 15, 2010 15:51

I came across this new public service announcement from New York's Gay Men's Health Crisis via a headline on the Drudge Report: "New Graphic PSA Causes Uproar in NYC."

I didn't think it was that bad, minus one truly horrific shot of anal cancer (see video below).

The PSA's message is a sound word of warning to those who think HIV is purely a manageable disease. While treatments have vastly improved since HIV was considered an ultimately fatal diagnosis, there are a slew of other health issues HIV-positive people may encounter.

Read more...
<< Start < Prev 1 2 3 4 5 6 7

8

9 10 Next > End >>